Automatic lifting stations
Genix, Genix WL, Genix VT
GENIX is the DAB automatic lifting stations range, designed to provide the maximum level of efficiency in the 3 main moments of its lifecycle. Quick installation, comfort in utilization and simplified...
> FAQ
> VIEW GENIX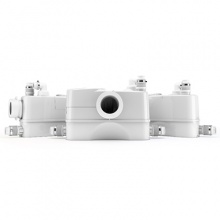 Automatic lifting stations
NOVABOX
Stations for the collection and lifting of domestic waste water from the bath, sink, shower, and washing machine in basements, or below the sewer network in general. Operating range: from 1 to 7,2 ...